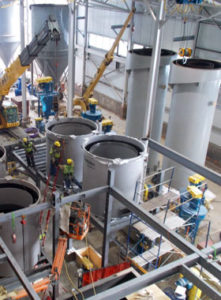 As engineers, there are many industries that you can join but have you ever considered the kind of opportunities available in the manufacturing and industrial firms? Here are some things you should know about them and us.
When it comes to the different job opportunities that are there in the country, we know that you are hardly out of any options. With new industries popping up on a daily basis, you can choose to go ahead and pursue your dreams in any field that you would like. While this can seem like an entertaining thought, the most important thing you need to remember is that there are a number of industries such as manufacturing and industrial which is in constant need of new recruits thanks to the increase in demand and population.
As a recruitment agency, we like to ensure that we have a firm base with different industries and fields in the country in the hope of providing every individual the right kind of job. Along with this, we also have great connections and tie ups with universities to ensure that the students have a great placement rate and find the type of job you are looking for.
While all of this is true one of the largest number of students to come out of college are from the subject of engineering. As a recruitment agency for manufacturing industry, the number of opportunities we have for you is amazing. If you are a little sceptical, here is why the manufacturing industry is the place for you:
The Make in India scheme – ever since this was introduced by the government, the boom in the manufacturing industry was unprecedented. The number of opportunities has risen with the manufacturing and industrial jobs and you can excel in the field of engineering that you had an interest in as well.
New and established MNCs are taking a hold on the manufacturing sector again which means that you will be able to join better and popular MNCs that will not only pay you well but will help you expand your knowledge of the industry and push you forward.
Your skill set- Many companies are looking for particular skill sets and locations in the manufacturing industry so when you sign up with us, you will just need to tell us your preference and we will find the right job for you.
As placement consultants for manufacturing industry, the opportunities that are present in the same is vast and divisive which means that you get the chance to prove yourself in the environment whilst expanding your status and the company at the same time.
There are many companies that offer job services but none do it in a timely and professional way when compared to us. With the best interests of the company and you at heart, we will ensure that the connection that is made, sticks for a long time.